Goshen — Nearly two years after Joan Porco was critically injured in her Delmar home, the mother of defendant Christopher Porco took the stand in the most anticipated moment yet in his murder trial.
Photo Gallery
Porco Trial - August 2, 2006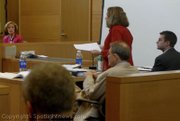 These photos are from the Christopher Porco murder trial from August 2, 2006.
Joan Porco testified in a succinct, soft-spoken manner that she has no recall of the Nov. 15, 2004 night someone quietly entered her 36 Brockley Drive, Delmar, home in the middle of the night attacking her and her husband with a 3-foot long wood-cutting ax as they lay in bed. Peter Porco died as a result of the attack and Joan Porco was severely injured. Their son, Christopher Porco, is on trial for murder and attempted murder in the crimes.
I am sorry for your loss, and I am sorry to have to call you as a witness, I promise I will be brief, Chief Prosecutor Michael McDermott said to Joan Porco.
Jurors witnessed firsthand and for the first time the severity of Joan Porco's wounds by the assailant. McDermott asked the victim if she has any recollection of the night she was attacked and her husband was murdered.
"No, because of the damage that I have, I feel I have amnesia," said Joan Porco. Her only recall about the weekend of the crime was about 12 hours earlier in the day that Sunday afternoon.
"Peter started working on the lawn, and I went to the 'Y' to secure a membership for my family," said Mrs. Porco.
Joan Porco said she was "livid" when she first found out Bethlehem Police Det. Chris Bowdish said she nodded 'yes' that her son Chris had committed the crime.
"It sounded like the most absurd thing I ever heard," Joan Porco said.
Porco was called by the prosecution as a witness to allow into evidence e-mail correspondence between her and her son Christopher from January to November 2004.
(Continued on Next Page)
Prev Next
Vote on this Story by clicking on the Icon