Goshen — On Tuesday, Aug. 1, jurors in the Christopher Porco murder trial heard Joan Porco for a second day. She testified that she was incredulous after hearing her son was the main suspect in the ax attack that killed her husband Peter and left her blind in one eye.
Photo Gallery
Porco Trial - August 2, 2006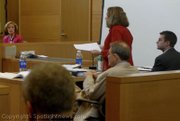 These photos are from the Christopher Porco murder trial from August 2, 2006.
"There was not the relationship with the police that I expected," said Joan Porco.
Although prosecutors maintain Joan Porco named her suspect when she nodded "yes" to the question "Did Chris do this to you?" she maintains the real killer is still somewhere at large.
"I believe this person or these people are still out there," Porco said. "Are they after me now? It's scary for me."
Tuesday's questioning of Porco by Chief Prosecutor Michael McDermott took a more serious tone, leaving the defendant's mother often confused and unable to answer specific questions.
When McDermott asked if Joan Porco remembered telling police after the crime that she and her husband had no enemies, Porco testified, "I don't recall saying that."
"Do you know it was your son Christopher who broke into your home (in November of 2002) and stole your laptop computer?" asked McDermott.
"He didn't break in," said Porco. "He was living with me during Thanksgiving."
Prosecutors believe Christopher Porco broke into his family's Brockley Drive, Delmar, home more than once and stole several electronic items only to sell them on eBay. McDermott asked Joan Porco if she knew her son Christopher had started his own business while at the University of Rochester.
"What was the name of the company?" asked McDermott.
"I wish I could remember(pause) Computers Direct or something like that," said Porco.
"Does Computers Direct 2000 sound accurate?" asked McDermott. "Did you know how long your son was engaged in that business?"
"I don't know," answered Joan Porco. "About a year or so."
(Continued on Next Page)
Prev Next
Vote on this Story by clicking on the Icon