Goshen — After six weeks, 70 witnesses, and over 440 items of evidence, Marshall Gokey, the prosecution's last witness, testified that he saw a yellow Jeep matching the description of Christopher Porco's outside 36 Brockley Drive in Delmar when the crimes against Peter and Joan Porco occurred. Christopher Porco is on trial for the murder of his father, Peter, and the attempted murder of his mother, Joan Porco, who survived critical injuries.
Photo Gallery
Porco Trial - August 3, 2006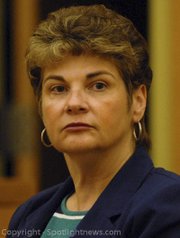 These photos are from the Christopher Porco murder trial from August 3, 2006.
The vehicle in question was in the driveway when I left that morning, said Gokey on Wednesday, Aug. 2.
The eight men and four women of the jury, along with Joan Porco, the mother of the defendant, listened intently in the courtroom as Chief Prosecutor Michael McDermott asked Gokey to recall that Nov. 15, 2004 morning.
"It was a typical morning," said Gokey. "I always look around. I am very aware of what's around me when I leave."
Gokey now lives in Port St. Lucie, Fla., and lived at 53 Brockley Drive with his wife and stepson in 2004. He told jurors he would get up very early every Monday morning during that summer and fall to drive south on the state Thruway to a job two hours and 20 minutes away. Gokey worked in Bethel, Sullivan County, as construction manager for a project called Bethel Woods.
"I would leave anywhere from 3:45 a.m. to 4 a.m., somewhere in that area," said Gokey.
Prosecutors have spent several weeks through witness testimony explaining to the jury that Christopher Porco drove his yellow Jeep Wrangler from the University of Rochester campus late Sunday evening Nov. 14, 2004, along the Thruway to Delmar to sneak inside his family's house and murder his parents while they were asleep with an ax. The prosecution's case until Gokey testified has been based largely on circumstantial evidence. Gokey was shown a photo of the outside of the Porco house, and asked to testify where the Jeep was located that morning.
(Continued on Next Page)
Prev Next
Vote on this Story by clicking on the Icon