BETHLEHEM — John Kearney, D.V.M., one of two owners of Bethlehem Veterinary Hospital in Glenmont testified that Christopher Porco is a hardworking, compassionate employee, who has also been trained in the proper sanitary techniques of a working hospital environment, including how to disinfect and clean surgical areas following operations.
Photo Gallery
Porco Trial - August 8, 2006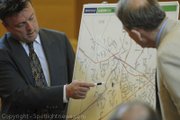 These photos are from the Christopher Porco murder trial from August 8, 2006.
Kearney was called by the defense as a character witness in his employee's trial for murdering his father, Peter Porco, and attempting to murder his mother, Joan Porco. Kearney testified that both Christopher and Joan Porco are now living with Kearney and his co-business and life partner of several years, Elaine LaForte, D.V.M., at their Glenmont home.
"How long has Christopher been living with you and your family?" asked Defense Attorney Terrence Kindlon.
"Since shortly after the murder in December (2004)," said Kearney.
"Where does Joan live at this time?" asked Kindlon.
"She has also been living with us a couple of months now," Kearney said.
Kearney testified that Porco has been working at his veterinary hospital in Glenmont since 1999 when the defendant was 16, after LaForte received a call from her old friend, the late Judge Joseph Cannizzaro, asking her to hire Christopher.
"He (Porco) seemed at the time to be something different," said Kearney. "Very hard working, and very responsible, never late."
Kearney added that Christopher is one of those rare individuals who has enormous empathy for the animals and is always "a step ahead."
"He's a very valuable employee who makes my job easier," said Kearney.
There was a moment in the defendant's past when he spoke about his plans for the future to his employer.
"He talked about the possibility of going to veterinary medical school or actually thinking about being a lawyer like his dad," said Kearney.
Under cross-examination by Chief Prosecutor Michael McDermott, Dr. Kearney described the many duties Christopher Porco learned working at the vet hospital.
(Continued on Next Page)
Prev Next
Vote on this Story by clicking on the Icon