John Polster, attorney and family friend of the Porcos, decided on the night of Nov. 15, 2004, less than 24 hours after the murder of Peter Porco that he would be Joan Porco's attorney.
Photo Gallery
Porco Trial - August 9, 2006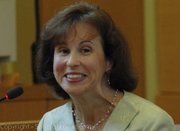 These photos are from the Christopher Porco murder trial from August 9, 2006.
Polster said he made the decision while Joan Porco lay in a hospital bed at Albany Medical Center in critical condition from wounds sustained by an assailant wielding an ax.
Christopher Porco is on trial for the murder of his father, Peter, and attempted murder of his mother, Joan.
The first time you were able to talk to Joan was Thursday or Friday (after the attack), but you became her lawyer on Wednesday, asked Assistant District Attorney David Rossi.
Polster said that in reality he began acting as Joan Porco's legal representation the day of the crime.
"Very simply put, because I knew Peter would want me to," Polster said.
Polster has considered himself to be a close family friend of the Porcos for over 30 years.
"When did you find out your friend was murdered?" asked Defense Attorney Laurie Shanks.
Polster said he had been working in the Schenectady County District Attorney's office on Nov. 15, 2004 when he received a call from Judge Joseph Cannizzaro, Peter Porco's employer. Polster found out shortly after that Christopher Porco was the main suspect.
"I heard a radio report at 3:30 p.m. that the suspect was armed and dangerous," said Polster.
When Polster arrived at the hospital, he spotted several police officers and decided at that point to act as attorney for family members.
"I told the police I did not want questions asked to Joan without me being present," Polster said.
The Albany County District Attorney's office has had a hard time speaking with Joan Porco. One meeting was cancelled in late May when Joan Porco believed the D.A.'s office leaked information about DNA on a Thruway toll ticket. Another meeting was scheduled just two weeks ago.
(Continued on Next Page)
Prev Next
Vote on this Story by clicking on the Icon