BETHLEHEM — Christopher Porco has been found guilty of murdering his father, Peter Porco, and attempting to murder his mother, Joan Porco.
Joan Porco was not in the courtroom when the verdict was
Photo Gallery
Porco Trial - August 11, 2006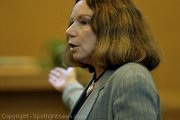 These photos are from the Christopher Porco murder trial from August 11, 2006.
delivered at approximately 4:55 p.m. on Thursday, Aug. 10 in the Orange County town of Goshen. Christopher Porco's Defense Attorney Terence Kindlon said Joan Porco was resting in the hotel at the time.
Judge Jeffrey Berry completed his charge to the jury at 10:25 a.m. on Thursday, and the jury had its verdict by 4:12 p.m.
The courtroom was subdued when the jury delivered its verdict. Except for two young women who cried, none of Christopher Porco's family or friends were in the courtroom at the time. Christopher Porco showed no emotion when the verdict was read or when he was handcuffed, but he slouched when leaving the courtroom. Defense Attorney Laurie Shanks hugged her convicted client.
We're very, very pleased by this verdict, but it's just so said, Chief Prosecutor for the Albany County District Attorney's Office Michael McDermott said. "I don't know what's going to happen to Mrs. Porco."
Although Joan Porco survived the Nov. 15, 2004, attacks, she sustained critical injuries, including the loss of an eye.
Christopher's brother Johnathan is in the Navy and stationed on a submarine. McDermott did not know how he would get news of the verdict.
McDermott said he felt the keys to the conviction came in the prosecution's timeline, which showed the family's alarm having been disabled at 2:14 a.m. on Nov. 15, 2004; the testimony of former neighbor Marshall Gokey that he saw Christopher Porco's yellow Jeep in the driveway at 36 Brockley Drive in Delmar at 4 a.m. on Nov. 15, 2004; and e-mail correspondence between Peter and Christopher Porco.
Peter Porco's sister, Patti Szostak, was present when the verdict was read.
(Continued on Next Page)
Prev Next
Vote on this Story by clicking on the Icon