Goshen — The girlfriend of Christopher Porco during November 2004 told jurors in his murder trial that Porco wasn't feeling well just hours before he learned his parents had been attacked in their Brockley Drive Home. Porco, 22, is on trial for murdering his father and attempting to murder his mother.
Photo Gallery
Porco Trial - July 6, 2006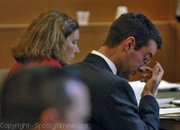 These are photos from the Porco Murder trial from July 6, 2006
Sarah Fischer of Slingerlands met Porco through a mutual acquaintance in the summer of 2004.
"We played tennis and would go to the movies," Fischer testified on Wednesday, July 5. "We saw each other often in the evenings about five nights a week," the Fairfield University senior told the jury. Fischer often went to 36 Brockley Drive in Porco's yellow Jeep Wrangler.
"Did you ever go to the house at night when his parents were asleep, and how did you enter?" asked assistant district attorney for Albany County, David Rossi.
"Yes, either through the garage door or the front door," answered Fisher, who said a spare key was usually hidden in the flowerpot outside the front door. "Sometimes, I would wait at the front door until the alarm was disarmed."
Barrister, the Porco family's Labrador retriever, often greeted the two when they entered.
"He would hang out with us," said Fischer. "He would never bark, he was always pleasant."
The two continued to date through the fall of 2004 and continued to see each other when Porco went back to the University of Rochester and Fischer attended Fairfield. Porco visited Fischer in October at Fairfield and the two corresponded by instant messaging on each of their computers right up until the morning of the crime on November 15. Porco also stayed over at Fischer's home in Slingerlands that Friday and Saturday Nov. 12 and 13.
"When did he leave?" asked Rossi.
"That Saturday afternoon at 3 p.m.," Fischer said.
"Do you know where he went when he left?" Rossi asked.
(Continued on Next Page)
Prev Next
Vote on this Story by clicking on the Icon