Goshen — Close to 200 crime scene photos of the inside of 36 Brockley Drive were detailed during testimony at the murder trial of Christopher Porco from the man who took them, New York State Police Troop G Investigator Drew McDonald.
Photo Gallery
Porco Trial - July 6, 2006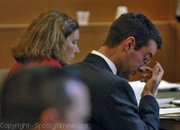 These are photos from the Porco Murder trial from July 6, 2006
Porco, 22, is on trial for the murder of his father and the attempted murder of his mother.
A 20-year veteran who has worked over 100 homicides, McDonald on Wednesday, July 5, described in room-by-room and sometime object-by-object detail the collection of evidence gathered inside the Porco family home over several days beginning Nov. 15, 2004, the day Peter Porco was found dead and his wife Joan Porco severely injured in their home.
We were at the residence a total of six days, said McDonald, who photographed every room in the house explaining the minute differences between blood splatter, transfer of blood and the many passive bloodstains of Peter Porco found inside the home.
What becomes clear in photo after photo is that Peter Porco was up and wandering from the master bedroom to the master bath to the downstairs kitchen and family room, leaving a trail of blood following his footsteps. The greatest amount of blood is found in the master bedroom where the attacks on Joan and Peter Porco occurred. However, the kitchen floor, stove and countertop have bloodstains, as do the bathroom and kitchen light fixtures. Tissues and paper towels with Peter Porco's blood are on the bathroom and kitchen floor.
The most difficult photo for the jury and family members to see was the body of Peter Porco lying on his side, head pushed up toward the wall of the foyer by the stairs, shirt pulled halfway up, one hand over his side and white athletic socks he is wearing soaked in blood.
"What it indicated to me is that he stepped in several areas of blood drops," said McDonald.
(Continued on Next Page)
Prev Next
Vote on this Story by clicking on the Icon