Goshen — The neurosurgeon who operated on Joan Porco's skull fractures after the ax attack inside the Porco family's Brockley Drive home in November 2004, said her severe injuries could cause memory lapses following recovery.
Photo Gallery
Porco Trial - July 7, 2006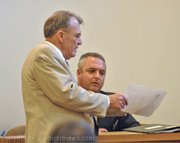 These are photos from the Porco murder murder trial from July 7, 2006
Dr. Paul Spurgas, associate professor of neurosurgery at Albany Medical Center, spent six hours removing and repairing damaged bone from the center of Porco's scalp down the right forehead and right eye during a 12-hour overall operation to save her life. Joan Porco survived the attacks that murdered her husband, Peter, and for which her son, Christopher, 22, is now on trial.
The injuries were extensive involving multiple skull fractures, said
Spurgas during testimony on Thursday, July 6. "I repaired the brain the best I could."
Porco's injuries, which prosecutors believe were inflicted by her son Christopher Porco, were so severe that 4 to 5 inches of bone had to be replaced.
"She would have died if injuries were left untreated," said Spurgas under questioning by Albany County Assistant District Attorney and Chief Prosecutor Michael McDermott.
Spurgas is considered an expert witness for the prosecution because of the 7,000 surgeries he performed throughout his career, hundreds of them involving brain and spinal cord injuries.
Defense Attorney Laurie Shanks was quick to point out that Spurgas is a neurosurgeon and not a neurologist, and cannot testify as an expert witness with respect to cognitive functions.
"It is not uncommon for patients after neurosurgery to have changes or lapses in their memory," Spurgas testified.
"You couldn't tell if she (Mrs. Porco) was asleep when injuries to her eye and skull took place, is that correct?" Shanks asked.
"Correct," said the doctor.
"You certainly didn't ask Mrs. Porco any questions," continued Shanks.
"She was under anesthesia when I saw her," said Spurgas.
Joan Porco could not communicate for a period of time after surgery because her jaw was wired shut and she was fed through a feeding tube.
(Continued on Next Page)
Prev Next
Vote on this Story by clicking on the Icon