Photo Gallery
Porco Trial - July 7, 2006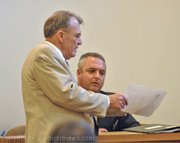 These are photos from the Porco murder murder trial from July 7, 2006
Goshen — Investigators from the Albany County district attorney's office wheeled a heavy sack filled with evidence into the Orange County Courthouse on Thursday morning, July 6, where the murder trial of Christopher Porco is being held.
Part of the evidence was an ax used to kill Peter Porco and injure his wife, Joan.
Investigator Drew McDonald of State Police Troop G in Loudonville continued a second day of testimony on evidence gathered at 36 Brockley Drive in Delmar Nov. 15, 2004, including the murder weapon, People's Exhibit 274, a 3-foot ax.
"Yes, this is the ax depicted in this photograph which was located in the master bedroom," McDonald said to Assistant District Attorney and Chief Prosecutor Michael McDermott.
"There are heavy bloodstains on the head of the ax, but not on the bottom of the ax," McDonald said. The murder weapon was dusted for fingerprints with blood swabs taken to a state police lab for testing.
"Are you familiar investigator with a fireman's ax, and how does it differ?" asked McDermott.
"A fireman's ax is generally bigger," McDonald said, "and used for cutting buildings, not trimming tree branches. This is something we use to trim trees and not quite a wood-splitting ax."
McDonald told jurors the crime occurred inside the master bedroom on Joan Porco's side of the bed, where the perpetrator swung a 3-foot ax anywhere from 10 to 30 times before dropping it on the bed and fleeing.
"I believe the attack happened while the two people were in their bed, and they spent some time lying there with their injuries in their bed," he said.
"Did you try to find if the perpetrator in this crime was cut or bleeding?" asked McDermott. McDonald said no blood from any other source was found.
Under cross examination from Defense Attorney Terence Kindlon, McDonald was asked who took the lead in the crime scene investigation, state police, or the Bethlehem police department.
(Continued on Next Page)
Prev Next
Vote on this Story by clicking on the Icon