Goshen — Two tollbooth collectors who work 230 miles apart, in Rochester and Albany, told jurors in the murder trial of Christopher Porco that they recall seeing a yellow Jeep Wrangler with a young white male driving the night Peter and Joan Porco were attacked.
Photo Gallery
Porco Trial - July 12, 2006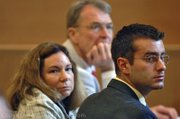 These are photos from the Porco Murder trial from July 12, 2006
John Fallon worked as a toll collector at Exit 46 in Henrietta on Nov. 14, 2004, covering the 3 to 11 p.m. shift. Fallon saw more than 3,000 vehicles pass through his toll that day but there was something about a yellow Jeep that registered in his memory.
"I remember a yellow Jeep that came through at 10:45 p.m. right before quitting time," said Fallon on Monday, July 10. Fallon testified that his son and wife both own Jeeps and Jeeps are vehicles he pays close attention to.
"As the vehicle got closer, I took notice of it because I thought it would be a good vehicle for my son," said Fallon.
"Did you see who was driving that vehicle?" asked Assistant District Attorney for Albany County and Chief Prosecutor Michael McDermott.
"It was a white male in his early- to mid-20s with a baseball cap on," said Fallon.
Authorities believe Peter and Joan Porco were attacked inside their Brockley Drive home in the early morning hours of Nov. 15, 2004, by their son Christopher Porco with an ax. Christopher Porco is on trial for the murder of his father and attempted murder of his mother.
A police officer from Bethlehem's police department met with Fallon later that month to ask if he remembered the yellow Jeep.
"Did anybody show you a photo of a human being to look at?" asked Defense Attorney Terence Kindlon.
"No sir," answered Fallon.
"Nobody showed you a picture of a young white man in his early 20s?" Kindlon asked again.
(Continued on Next Page)
Prev Next
Vote on this Story by clicking on the Icon