Goshen — Christopher Porco is charged with murder and attempted murder of his mother and father Peter and Joan Porco inside their Brockley Drive home, sometime around the early morning hours of Nov. 15, 2004.
Photo Gallery
Porco Trial - July 18, 2006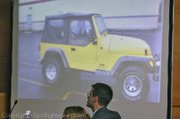 These are photos from the Porco Murder trial from July 18, 2006
Prosecutors believe Porco drove from the University of Rochester where he was a student in the late night hours of Sunday, Nov. 14, 2004, and traveled more than 200 miles along the Thruway to stage a break-in at his family's home at 36 Brockley Drive, in Delmar early Monday morning Nov. 15.
Based on prior court testimony in the Christopher Porco murder trial in Orange County Supreme Court, and published Spotlight news articles about the crime, here is a timeline that is beginning to emerge based on witness testimony and police investigations:
Porco allegedly drove from the University of Rochester to Slingerlands on Friday, Nov. 12, to stay overnight at the family home of his former girlfriend Sarah Fischer. According to Fischer's testimony, Porco left the Fischer family home Saturday afternoon around 3 p.m., Nov. 13 to drive back to the University of Rochester.
Sarah Fischer testified she continued to communicate with Porco throughout the afternoon and evening hours of Sunday, Nov. 14. The last communication through text messaging on their computers took place just before 10 p.m. Porco was in Rochester at the time and Fischer was in Fairfield, where she was enrolled at the time.
He signed off at 10 p.m. and said he had to pick up an economics book, Fischer testified.
Thruway toll collector John Fallon working at the Exit 46 Henrietta tolls testified that he saw a yellow Jeep Wrangler come through his toll lane around 10:45 p.m., Sunday night, Nov. 14, with a young man driving.
"It was a white male in his early- to mid-20s with a baseball cap on," Fallon said.
(Continued on Next Page)
Prev Next
Vote on this Story by clicking on the Icon