Goshen — Information the jury is not allowed to see or hear is beginning to emerge as a major development in the murder trial of Christopher Porco.
Photo Gallery
Porco Trial - July 20, 2006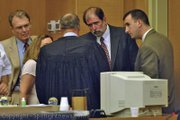 These photos are from the Christopher Porco murder trial from July 20, 2006.
While the jury listened to several hours of testimony Wednesday, July 19, ranging from a confidential secretary of the State Appellate Court to Christopher Porco's college roommate, two witnesses sat in a waiting area all afternoon who may have been able to shed even more light on the case.
Assistant district attorney for Albany County and chief prosecutor for the people, Michael McDermott, said after the day's proceedings that a witness who heard that Christopher Porco stood to gain several million dollars from his grandmother's trust was ready to testify. A second witness from an investment firm was ready to tell how Porco met with him to establish an investment schedule for his potential nest egg.
The two witnesses were going to explain that Christopher Porco was to gain $2.8 million from his grandmother by the end of 2004, and that summer the defendant met with a financial planner from Northwestern Mutual Life Insurance to discuss an investment strategy, McDermott said.
When asked why the witnesses were not allowed to testify, McDermott said Judge Jeffrey Berry, who is presiding over the trial in Orange County, believed the information was too remote.
The simple fact, according to McDermott, is that Porco's grandmother did not have anywhere near $2.8 million in any trust or savings.
"This case is riddled with Christopher Porco telling 'tall tales' about his wealth," said McDermott.
Those 'tall tales,' according to the prosecution, include forging his father's signature on two loans totaling close to $50,000 to pay for his Jeep Wrangler and to pay for his college tuition. That information, along with today's information about a trust that never existed, has yet to reach the jury. The prosecution believes inheritance is a motive for murder in this trial.
(Continued on Next Page)
Prev Next
Vote on this Story by clicking on the Icon