Goshen — A series of e-mails exchanged between a father and son over an 11-month period from January to November 2004 are at the heart of the prosecution's evidence in the murder trial of Christopher Porco.
Photo Gallery
Porco Trial - July 21, 2006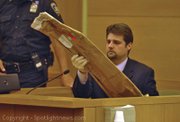 These photos are from the Christopher Porco murder trial from July 21, 2006.
Fifty-two computer correspondences between Peter Porco and Christopher Porco that Chief Prosecutor Michael McDermott to the jury, reveal a father who shows patience and devotion even as he begins to realize his son is lying about his financial and academic affairs.
The first correspondence tells Christopher Porco that his mother will pick him up at the University of Rochester and take him back home because he has been separated from the school because his grade point average is 1.14.
"Mom will be arriving with the van on Tuesday, Jan. 13, 2004, to pack you up and bring you home. Please call as soon as possible, Dad."
The next correspondence from March 2004 is from Christopher Porco entitled "Failing Grades, you did it again," in response to his father's query that his son is failing in school again, this time at Hudson Valley Community College.
"Hi, I'm in London and have been touring around with Sarah a bit," wrote Porco. "I don't know why my grades would say that and I assure you I didn't do it again."
"One reason it may say that is when I registered, my teachers initially had no record of me in their classes," Porco wrote.
In September, an e-mail from Peter to Christopher Porco asked why Christopher has yet to pay the IRS a refund check of $337.88.
"Obviously whatever steps you though you took to iron out this matter haven't satisfied the I.R.S.," wrote Peter.
A few weeks later, Peter Porco found out that car loan payments on the yellow Jeep Wrangler Christopher Porco drove were delinquent.
"Chris, we received mail on the weekend indicating your car loan payment was overdue and you had five days to pay it before they begin collection activities. You need to take immediate action on this, Dad."
(Continued on Next Page)
Prev Next
Vote on this Story by clicking on the Icon