Goshen — After five weeks of testimony in the Christopher Porco murder trial, the whereabouts of the defendant in the early morning hours of Nov. 15 still remain in doubt.
Photo Gallery
Porco Trial - July 29, 2006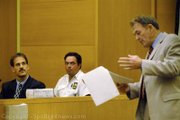 These photos are from the Christopher Porco murder trial from July 29, 2006.
On Friday, July 28, Porco's uncle John Balzano said his nephew told him he was sleeping in the student lounge at the University of Rochester's Munro Hall dorm overnight on Nov. 14 and 15 when the attack on his parents Peter and Joan Porco occurred.
Balzano's testimony of the defendant's whereabouts that night in Porco's own words is consistent with testimony received earlier in the week from Jonathan Porco.
He told me he was at school sleeping in the common room in his fraternity, stated Jonathan Porco to jurors.
Fraternity buddies and residents of Munro Hall in 2004, Joshua Felver-Gant, and Gregory Whiteside already testified they did not see Christopher Porco sleeping in the student lounge that night.
In the days following the attacks, Porco told several students he gave his dorm bed up for an out of town guest from his fraternity, and he would sleep in the student lounge.
Marshal Crumiller is the last person to identify Porco's whereabouts on Sunday evening Nov. 14, 2004. The two ate dinner at a restaurant close to the campus before Crumiller left Porco at 10 p.m.
Prior testimony Crumiller gave the jury is that Porco was going to do yard work for his aunt and uncle, John and Barbara Balzano, who live in Fairport, a suburb of Rochester. Barbara Balzano earlier testified that Porco never came the next day nor was he asked that day or ever to do yard work for them.
John Balzano stated during pre-trial testimony that he picked up the defendant from school on the afternoon of Nov. 15 and drove him to Albany Medical Center to see his mother Joan Porco, Balzano's sister.
(Continued on Next Page)
Prev Next
Vote on this Story by clicking on the Icon