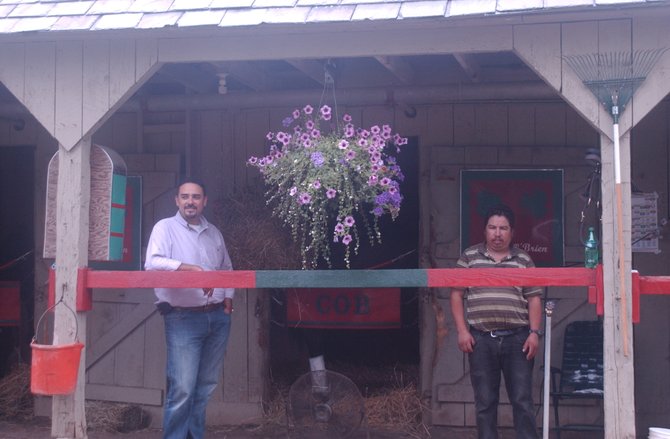 continued — It seems strenuous to play such an integral role in the lives of the entire Latino community, but Chavez said that's exactly why it's so important.
"When it comes down to ministering on any type of level, a smile would be considered ministering and we strongly believe in that because this industry kind of revolves very quickly and sometimes it's hard to sit and get a smile from anybody, so sometimes just smiling and saying 'good morning' to somebody, we know that we're ministering to that person happiness," said Chavez.
Right where they belong
It might not seem like a glamorous life—toiling in the heat amid mud and horse dung and being responsible for coveted animals—but the backstretch workers are exactly where they want to be, said Chavez.
"Many of the people who work here are horse-related. There's a section in Mexico which most of our Mexican workers come from; it's a big state with a lot of horse breeding, so they migrate through different programs," said Chavez.
The South American workforce from Argentina, Chili and Venezuela hail from numerous racetracks and breeding farms throughout their countries and migrate to the U.S. as former exercise riders or even jockeys.
"They see this as more of a take it easy type of atmosphere than what they're used to back in their country because it's hard to make ends meet down there," said Chavez.
Striving for a better life (financially) can come at a price, though.
"They come here with all these awesome programs that immigration gives them and they can supply for their families for awhile but they get to see their families three months out of the year," said Chavez. "Life is hard when you're away from your family."
The chaplaincy does what it can to help ease that loneliness or what may arise from it. And, for those workers who are lucky enough to bring their families along, there are programs for that as well, like child care services and a program where children are sponsored to attend camps during the day when their parents are working.
Vote on this Story by clicking on the Icon