continued — The train is billed as an excursion train but Torrico said it actually functions just fine as a qualified passenger train.
"We meet all the qualifications and required things you have to do in order to be considered to be a qualified passenger railroad just like Amtrak," said Torrico. "It's different than other tourist trains that don't have to meet these higher standards."
Torrico said the railroad has already seen people use it as an easy travel option.
"We connect with the national rail system at Saratoga and already had passengers come in on Amtrak and transfer to ours and continue taking it north to spots along there," said Torrico. "A lady came in on Amtrak the other night, got on our train and went to Hadley. A couple of women from Germany went from New York City to Saratoga to our train to North Creek."
The Saratoga and North Creek Railway might not have happened without a marketing study called "First Wilderness Corridor." A tourist train ran along the same line for about 12 years until the contract expired last year and was not renewed, said Torrico. Warren County and the Town of Corinth, owners of the tracks, wanted to preserve the rail corridor and a study was launched to see how it would be best used while still preserving it.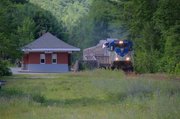 "It's considered to be the 'first wilderness' because guys like Teddy Roosevelet came here and saw this and were like 'Wow, we've got to preserve this,'" said Torrico. "The market study talks about how these little towns along the railway and river—Thurman, Hadley, Sonty Creeek and the little communities that sprung up when it was built—the town and county are looking at developing these for recreational purposes and felt an important part of that was rail."
When the county and town went out to bid for a company to operate the railway, Iowa Pacific Holdings, LLC secured the bid.
Vote on this Story by clicking on the Icon