CAPITAL DISTRICT — Jack Rightmyer, a Burnt Hills resident, will discuss his book on fatherhood and coaching at the Schenectady County Public Library, where he teaches summer creative writing courses.
A memoir of sorts, "It's Not About Winning: One Runner's Reflections on Fatherhood, Coaching and Athletics," is the focus of Rightmyer's discussion on Wednesday, Aug. 3, at the Schenectady County Public Library on Clinton Street in Schenectady at 7 p.m. The book started out as a graduation present for his daughter almost a decade ago, but ended up as an autobiographical book about his life as a father and his love for athletics. He is also an English teacher at Bethlehem Central Middle School. For the book, he spent five months writing down memories with his daughter, Erin, and about the same amount of time with his son, Paul, before both left for college. Besides focusing on his relationship with his children, he delves into his relationship with his own father.
"I try to pick out parts that would sound good to an audience. You want to read something that has a high entertainment value," said Rightmyer.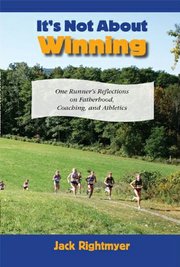 The book does have a sports theme, and with his daughter, he talks about their relationship through cross-country running, which he has coached at Bethlehem since 1997. He and his son connected through golf and cross-country skiing.
The relationship with his father was strengthened by playing golf and watching baseball.
"Even though [my father and I] sometimes had a hard time connecting, if there was sports involved, it helped break down the barrier," he said.
Rightmyer said he was excited for the opportunity to speak at Schenectady's library, and he praised the programs it offers.
"I am just very impressed with the kinds of programs they put out," he said. "They are so wonderful in all of their programs that they have for writers, for literacy. They really treat writers very well and very respectful, and they are just a great organization in terms of encouraging the community to read well."
Reporter Charles Wiff contributed to this article
(Continued on Next Page)
Prev Next
Vote on this Story by clicking on the Icon