SCHENECTADY — Peering back into history through one man's collection of portrait photographs provides a glimpse of the state's culture and history.
Bradford Smith, an 86-year-old Ballston Spa native and current Schenectady resident, recently had his collection of male portraits from personal, advertising, fashion and theatrical shoots published in "Faces of Man: A Look Through the Lens of Bradford Smith." The author and book designer, Ellen Kostroff, worked with Smith to compile his collection spanning 70 years. On Friday, Aug. 5, a book signing and discussion will be held at the Broadway Art Center in Albany from 5 to 8 p.m. with Kostroff.
Despite the advancements in photographic technology, Smith said he prefers traditional film over digital.
"The digital world of course changed a lot of things in the world," said Smith. "I don't shoot with a digital camera. I still shoot with film. I need the high quality that film produces to make the enlargements."
He has mostly stuck to black and white photography, which he has used for most of his life. Growing up, he helped his grandfather take pictures and bought his own camera while in high school and started to snap pictures for local newspapers.
After going to school in Boston, he shot fashion photography for Harper's Bazaar in the 1950s and then got into photography for advertising. Eventually he decided to leave New York City and move back to upstate New York when he had three children.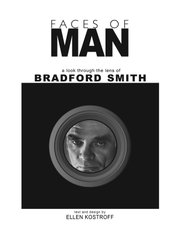 The book, "Faces of Man," helps to chronicle his journey and varying photographs from throughout the years, including candid shots of area men and returning military veterans or those about to be shipped off.
"I had all these photographs that I had taken, and I didn't know what do with them," said Smith.
He acknowledges it is a unique book and isn't sure about the marketability of it, but he decided to publish the book to help others understand a little more of what the photographic world is about.
(Continued on Next Page)
Prev Next
Vote on this Story by clicking on the Icon