continued — The challenge of getting a great photo and the creative process behind an image is what has kept Smith behind the camera all the years.
"Everybody has a digital camera and can shoot a photograph, but artistically they don't take the time to create something … good, different or better," he said. "When I was in NYC as a photographer, there was 3,000 competitors … so if you were not good, or not challenging, or not on the ball you don't get anyplace."
Since he has retired, he's enjoyed taking photos for his own pleasure at his own pace.
"Just photographing for the fun of it is more interesting than photographing for the dollar," he said.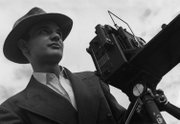 One memory that stuck out to Smith was years ago when he was driving to work on the Long Island parkway and there was a four-car accident in front of him. Being a photographer, he grabbed his camera and snapped some pictures.
The scene was a rather gruesome one, with a women's head smashed through her car windshield, and the only thing he knew for sure was the insurance companies would probably want the prints. Sure enough, some newspapers also expressed interest in the photos and his less gruesome pictures appeared on the front page of a newspaper with a big spread.
Although, he didn't actually get paid for the photographs printed in the paper.
"They called me back and asked me do I want to get paid for photographs or did I want to enter the contest," he said.
At the time Paramount Pictures was running a photography contest and submitted photos could be entered into it if the photographer chose not to get paid. The contest had a photo of the day, week, month and overall best, and Smith claimed all four spots.
Vote on this Story by clicking on the Icon