SCHENECTADY — If you missed the community theater production of "Rent" at The Egg in Albany in April, you'll have another chance to view most of the same cast with some special guests enhancing the show.
The Schenectady Light Opera Company is hosting several performances of "Rent" from Friday, Aug. 12, to Sunday, Aug. 21. Matthew Teichner is directing the production and the musical direction is by Olga Martinez. National musicians Daniel Weiss and Dave Malachowski signed on for the performances too. Weiss was a part of the original production, and Malachowski plays for Anthony Rapp and Adam Pascal's national tour, which was the duo originating the roles of Mark and Roger on Broadway and who were cast for those roles in the movie version of "Rent."
SLOC is currently in the first phase of three for the new multi-purpose performing arts center, which is located at the former St. John the Baptist Church in downtown Schenectady. In late August 2009, SLOC announced it was purchasing the church from the Roman Catholic Diocese of Albany.
"All the funds from this are going to the renovation of this building into a performing arts center," said Teichner. "We are all volunteering our time for this."
Teichner said he is pleased to be bringing the show back.
"We did the show at The Egg, and it was phenomenally successful … as soon as the show ended, there were sort of talks about doing it again, but the question was where, and if it was feasible to do it and keep the cast together," said Teichner. "SLOC wound up being interested in doing it as a fundraiser for the new art center."
Weiss said he was excited to be performing "Rent" again, and being a part of the musical was major part of his life.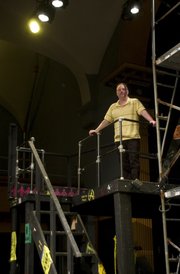 (Continued on Next Page)
Prev Next
Vote on this Story by clicking on the Icon