SCHENECTADY — An outdoor art show might not be a common occurrence, but it has appeared to be a winning formula for the Schenectady Stockade's art show.
The small group of Stockade residents 60 years ago, which took it upon themselves to hold an outdoor art show, probably couldn't picture of much their art show would grow and continue to be held for over half a century. There are no sign the Stockade Outdoor Art show is slowing down or going away, with this year making the 60th anniversary of the unique event showcasing local artists with all sorts of backgrounds and levels of experience. The art show will be in the historic city area around the statue of Lawrence the Indian on Saturday, Sept. 10, from 10 a.m. to 4 p.m., with a rain date set for the following day on Sunday.
Event organizers are only thinking sunny thoughts though as the date nears.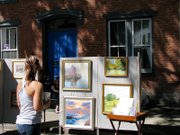 "You are at the mercy of the weather," said Connie Colangelo, co-chair of the event, who has been involved with it for over 30 years. "We've had one or two times when we've had to do it on Sunday (the rain date)."
Over the years, one appealing aspect to the event for artists is no crafts are allowed at the event, allowing for a purely art centered focus. The show accepts non-utilitarian art including drawings, paintings, sculptures, graphics, textile wall hangings and photography. The art is also required to be matted or framed.
"The artists like it cause they don't have to compete with crafters," said Colangelo. "It is a wonderful outdoor event and venue for artists that like to exhibit their work and sell their work … we see many sales each year."
There is a $30 registration fee for adults and student registration is $10 for an individual and $20 for a school group. Artists are eligible for a total of $1,500 in prize money and young artists, ages 8 to 18, are judged in their own category. Artists can register up to the start of the show. A $500 scholarship will also be given to a Schenectady High School art student planning to study art in college.
(Continued on Next Page)
Prev Next
Vote on this Story by clicking on the Icon