continued — "It is kind of nice for people, if they are new you don't have to go through a lot of paperwork," said County Legislator Karen Johnson, D-Schenectady, and event organizer. "Because we are right around the Indian there are five streets that go out, so you can setup and by the time the show starts all the cars have to be gone. People that know the drill know to come early."
In the early years, said Colangelo, the show primarily focused on amateur artists and a small amount of artists. The height of the art show was around 200 exhibitors showing off their work, she said. Even though the number has declined new artists is getting attracted to the show and in addition to many returning artists.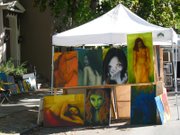 "We do have a lot of repeat artists, but we are also getting new artists," said Johnson. "We are a kind of place where a person that is beginning to develop their art, if they have enough to exhibit, can come. Everybody is welcome as long as they can provide their art framed or on a rack. Sometimes people have come with just a few pieces."
She added while some artists at the show are full-time professionals; others simply do art as a hobby while keeping their current job or after retirement.
The event, while an art show, tends to be more of a community event and gathering, said Johnson.
"There is a lot of this show that is about relationships … it's an arts event, but it is also a community building event," she said. "You find an awful lot of people in groups talking to each other … there is a big social element of this that people are happy to see each other and happy to be in the Stockade … and happy to see artists, some they know and some they don't know."
Vote on this Story by clicking on the Icon