continued — "Local building codes can reduce the amount of urban runoff from built-up areas by requiring different measures be taken to impact the movement of water during rain events so pollutants can be filtered before they reach a waterbody," said Georgeson. "For example, requiring more permeable surfaces, such as fewer paved areas, will allow water to filter into the ground rather than run off directly into a waterbody."
When it comes to addressing nonpoint pollutants, he said, rural areas will have fewer resources to use compared to cities and bustling towns.
"Some of the very small towns in the state do not even have local zoning at all," he said.
Correcting Collins Lake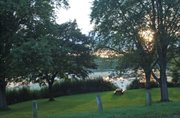 The Village of Scotia is well aware of water quality issues at Collins Lake.
"There has been a fair amount that has gone on at Collins Lake," said Werner about correcting the water quality.
Collins Lake was sampled in 2006 by the DEC, and the quality was found to have noticeably improved from previous conditions through various management actions. Excessive weed and algal growth are found in the lake, according to DEC, which are caused by excessive runoff from urban nonpoint sources. The impact of geese excrement has been an ongoing issue the village has addressed as well.
As the only sand beach in Schenectady County, said Mayor Kris Kastberg, the village has a unique natural resource it aims to protect. Water usage for recreational activities has also increased the past two years, Kastberg said.
"Right now our water quality is better than it ever has been," said Kastberg. "You can't say any one thing did it, but a combination of factors … turned the lake around."
Despite improvements to the lake, DEC officials said in June 2010, water quality issues are still typical of an impaired lake. The uses listed as impaired are public bathing and recreation.
In next week's Spotlight, this series will look at air quality and energy in the county.
Vote on this Story by clicking on the Icon