CAPITAL DISTRICT — The Capital District was shaken by an earthquake at just before 2 p.m. this afternoon.
Initial reports indicate much of the eastern seaboard was affected. The United States Geological Survey reports that a magnitude 5.8 quake originated in the Virginia area.
In the Capital District no damage or disruptions were immediately reported. Social media scenes, including Facebook and Twitter, were instantly flooded with reports from across the region of people experiencing the seconds of swaying.
Gov. Andrew Cuomo said the State Office of Emergency Management is continuing to monitor the affects of the earthquake.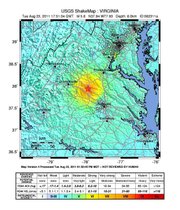 "Currently, there have been no reports of damage to buildings, bridges, roads, power grids, the Indian Point nuclear power plant, or other infrastructure," said Cuomo in a statement on Tuesday, Aug. 23, around 3 p.m.
Town of Colonie Emergency Management and Planning Department Director Mike Rayball said that there are no reports of any problems in the town at all.
"The treatment plants have said there are no problems at all," Rayball. "The sewage treatment plant and the water treatment plant had no alarms at all."
Rayball did note, though, that in the basement of the Memorial Town Hall he felt nothing.
"The first call was from Public Operations office building and asked if I felt it. I sort of chuckled," he said. "Then I got a call from town hall and asked if I felt it and I said no."
Although, Schenectady County employees did get a shake.
Joe McQueen, spokesman for Schenectady County, said he was in his office on the sixth floor of the County Office Building and felt a tremor.
"Everyone was kind of looking at each other like, 'What is going on?'" said McQueen. "We did evactuate out of precaution, both the County Office Building and the court house next door."
Check back for any alerts or updates on any local effects of the quake.
(Continued on Next Page)
Prev Next
Vote on this Story by clicking on the Icon