Saratoga — Todd Scaccia lives in America, so why shouldn't everything he buy be made in America? In an ideal world, that would be the case, but instead the majority of products consumers purchase are manufactured across the globe.
Scaccia is fed up, so he's doing something about it.
"Who benefits when you go to Wal-Mart or Target and buy products made in China? The store and the importers, that's it. Nobody else," said Scaccia, of Nassau. "Why continue to spend your dollars on foreign made goods? It doesn't make any sense."
Hometown USA Stores is what Scaccia's frustration produced. It's a store that he launched in Nassau in June 2010 that sells solely American made products. On Saturday, Aug. 27, Hometown USA Stores will debut in its second location in Clifton Park.
"It's hard to get people from Clifton Park, Latham, Glens Falls, to drive all the way out to Nassau but it's a little easier to have them come to Clifton Park," said Scaccia. "The closer we can come to people, the more merchandise hopefully we can sell, which is our whole goal."
The store offers more than 2,500 products in-store and more than 4,000 products online. It will employ about nine people.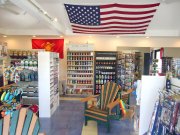 "We have boots, grills, toys, clothing, furniture, candles, yard games, cosmetics, purses, sandals. We try to have a little bit of something for everybody. We've got stuff for women, for children, for men," said Scaccia. "Basically, it came about from people letting me know what they're interested in and knowing where there's needs."
For years it was seemingly impossible for Scaccia to find domestically manufactured products, but with eight months of research and one employee devoted entirely to that research, he's finally found what he's been looking for.
"I was shopping for my wife for Christmas two years ago and everything was made in China. It was very frustrating for me. I want to buy American and there were no options, no places I could go that I'm guaranteed to buy all American made goods," said Scaccia. "We've been researching for eight months … every month we're bringing in a new product to the store."
(Continued on Next Page)
Prev Next
Vote on this Story by clicking on the Icon