NISKAYUNA — Don't be surprised if you see some new signs sprouting throughout Niskayuna.
The Niskayuna Safe Routes Committee is active again after experiencing a lull of activity for more than a year. Established in 2005, the committee is now looking at expanding bicycle and walking routes in the town. Brown and yellow signs reading "Canalway Trail" are beginning to appear on street corners to point people in the safest direction to reach the path. The state supplied the signs at no cost to the town and now residents are looking how to expand the bike path system outside of the Canalway Trail.
"They wanted to get that group back together," said Councilwoman Denise Murphy McGraw. "Really, what Safe Routes is are people who are committed to forms of transportation besides automobiles."
Currently the committee is working on a customized Google map showing the pathways throughout the town, McGraw said, so people would be able to view it anytime at home or even on a smartphone. She said there are also members interested in producing a hard copy of the map for the less Internet-savvy.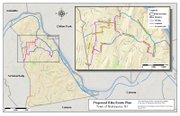 After initial efforts with the canalway routes are established, said Frank Gavin, superintendent for the town Highway Department, the committee will begin to look at how to connect areas within the town.
"Their first project is to identify the safest roads to travel to gain access to the canalway path along the river, which will allow access to quite a few of our parks," Gavin said. "The next step may be one route around town that would connect all the schools and we are looking at different signage for that."
Once the signs are posted throughout "Old Niskayuna," area west of Balltown Road and north of Union Street, Safe Routes is going to look at connecting almost everything North of Route 7 and East of Balltown Road, Gavin said.
(Continued on Next Page)
Prev Next
Vote on this Story by clicking on the Icon