Saratoga — A "Type B" emergency was declared on Monday, Aug. 29, at the Vischer Ferry Plant on the Mohawk River, according to Michael Saltzman of the New York Power Authority.
The "Type B" emergency was declared after historic high river flows from Tropical Storm Irene led to seepage of water at an earthen embankment that is a small part of the Vischer Ferry Power Dam, a water-retaining structure.
According to Saltzman, a "Type B" emergency is the lesser of two event categories for hydroelectric plants and indictes a situation in which there is still time to notify area emergency response organizations, which the New York Power Authority has done.
Clifton Park Supervisor Phil Barrett said based on what the New York Power Authority has told him, he doesn't believe the dam is at immediate risk of breaking.
"They said they feel they have it under control. I don't think it's as dire as we thought it might have been a few hours ago," said Barrett. "They never said it was going to give, they said it was a possibility, but I think the odds have been diminished."
Saltzman said the New York Power Authority was monitoring the conditions and as of Tuesday, Aug. 30, it looked like the dam was stable.
Check back to spotlightnews.com for updates on this story.
Photo Gallery
Vischer Ferry Power Dam Photos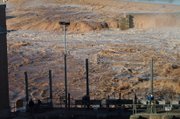 A worker at the Vischer Ferry Dam checks debris on the spillway on Tues. The New York Power Authority is watching the Mohawk river dam for possible failure. The dam is connected to Lock 7 of the Barge Canal on the Schenectady County side and a power authority hydro project on the Saratoga County the other.
Vote on this Story by clicking on the Icon