Saratoga — Marie Triller remembers the very first photograph she shot when she got to Ground Zero two weeks after Sept. 11, 2001.
"I remember just walking and I looked down and someone had stenciled on the sidewalk 'WTC RIP' and I stopped and took a photo of that," said Triller, of Albany. "Once I saw that and we kept walking, I knew what we were going to come upon was going to be far more intense and more emotional than that, but that set the stage."
That first photo isn't in her new book, "10 Years: Remembering 9/11," nor are any of the others she shot that day.
"There was so much of that imagery out there already and I just concentrated for the book, on the day itself; how America responds to 9/11 on each anniversary," said Triller, a photographer and art teacher at Clayton A. Bouton High School in Voorheesville.
Instead, Triller's book, published Aug. 1, offers non-chronological images of 9/11 memorials from the past 10 years. The photos are grouped by the themes "memory," "security," "expression," "reflection," "community," "courage," "place," "justice" and "spirit" and they capture the raw emotions of those affected most by that tragic fall day.
"It's more about the motions of the day and the different ways people expressed themselves," said Triller.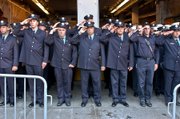 The first chapter, "memory," shows family members mourning those lost, the victims distinguishable by badges or portraits. "Expression" is a chapter of 9/11 tributes, whether it's a makeshift memorial, a huge floral display sent to New York City as a gift or a mural painted by a California man. To depict "courage" there are photos of firefighters and emergency responders. One image shows the firefighters of Ladder 10 facing Ground Zero in salute.
"There are no images of the aftermath of the buildings and the wreckage," said Triller.
(Continued on Next Page)
Prev Next
Vote on this Story by clicking on the Icon