SCHENECTADY COUNTY — Mandatory evacuations and road closures were common as Hurricane Irene rolled through Schenectady County and led to a patchwork of power outages.
County and municipal officials prepared for Hurricane Irene, which was downgraded to a tropical storm before local impact, but the effects of massive amounts of rainfall and a raging river couldn't be avoided. Commuters on Monday, Aug. 29, often ran into a gridlock because of detours and closed bridges, with the Western Gateway Bridge closing for hours and limiting access out of Scotia into Schenectady. People walked, biked and drove around their neighborhood, often times with a camera or smart phone in hand, to observe the massive flooding throughout the county.
The Historic Stockade District in Schenectady isn't a stranger to the flooding force of the Mohawk River, but some residents were surprised by how far the water came up the streets. Ingersoll Avenue in the Stockade had around 20 homes touched or submerged by floodwaters.
Shelly Paycheck returned Monday morning to survey the damage on of her family's home at 11 Ingersoll Ave. and was devastated by the sight.
"We never expected this," Paycheck said. "You never can predict what water will do; it is your enemy. This river has a mind of its own."
Paycheck is the fourth generation of her family living in the Stockade and said everyone takes pride in their property throughout the neighborhood. While waters have risen before, Irene led to some of the most drastic flooding in recent memory.
Photo Gallery
Irene floods Schenectady County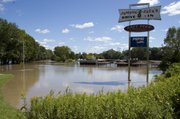 Schenectady County felt the brunt of a surging Mohawk River on Monday, Aug. 29, as flooding consumed parks, homes and roadways.
"We've had flooding where you lose your hot water, so what; your furnace, so what; but for old people that have lived on these streets for years, they have lost everything," said Paycheck. "We're homeless and we're middle-class people that have worked our whole lives, and we're homeless right now because of the river. I'm sure there is a lot of anger right now … and sadness."
(Continued on Next Page)
Prev Next
Vote on this Story by clicking on the Icon