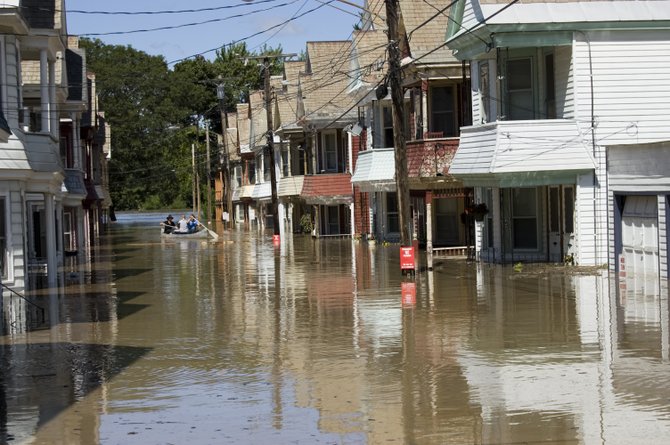 continued — She said her mind had to adjust to the devastation.
"We've never had our house under water before," said Paycheck. "If one of us could have fought for this not to happen, we probably almost would give our lives if we could have made a barrier somehow … that is how the people of the Stockade are."
Down the flooded street was Pat Belletti, 24, returning to dry land in a canoe from his home at 20 Ingersoll Ave., which he never left, even as it filled with water.
"I've been here all night and all day," said Belletti. "My sister lives in the apartment above me, so I took everything I could and put it upstairs. My entire apartment is flooded."
The water in Belletti's first floor apartment reached around waist height and he said his couches and beds were floating in there. Most of his electronics and other items he could easily move were salvaged. He also fell into the flooded street by his house and the water was up to his neck.
"The water was coming out of the cracks in the basement," said Belletti.
The smell of fuel, which he noted, could be detected in the air. The source of the fuel smell could not be confirmed.
Fleeing before the flood
Pat Steinbeiser from Driftwood Apartments in Schoharie was forced from her home by the impending storm and sought refuge at an American Red Cross emergency shelter at Schalmont High School on Sunday, Aug. 28.
"I lived in Florida for 20 years, and this is the first time I had to evacuate to a high school," Steinbeiser. "I went out kicking and screaming too. … I tried everything to talk them out of it, but I couldn't."
She said she wasn't worried about staying in her Schoharie apartment. Her husband passed away in April so she moved to the area to be closer to one of her six children.
Vote on this Story by clicking on the Icon