CAPITAL DISTRICT — Someone stole a Meals on Wheels delivery van just before Thanksgiving on Monday, Nov. 21, delivering a shocking blow to the already stretched program.
But a week later on Wednesday, Nov. 30, SEFCU replaced that stolen vehicle with a brand new one.
"To me, it's unconscionable that someone would steal anything, let alone a van that services those in need and especially the day before Thanksgiving," said SEFCU President and CEO Michael Castellana.
With the help of Jim Morrell of Albany Dodge, SEFCU purchased a 2012 Dodge Grand Caravan for Senior Services of Albany, which runs MOW.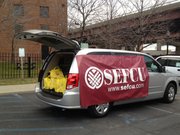 "We've been fortunate to have the community step up to the plate and really help us out in this crunch," said Donna Vancavage, director of development at Senior Services of Albany. "It was a hardship to have a vehicle stolen and we're extremely grateful for the community and support they can give us in helping us provide these vital services to seniors."
ShopRite also donated 1,000 emergency meals for seniors, which are used during the winter months if bad weather prevents MOW from making deliveries.
"That's money we don't have to spend out. ... As reimbursements from the government and government support continue to go down, we have to do a lot more in terms of fundraising to make up for that deficit," said Vancavage. "Not having to spend money on something being donated is huge savings to us."
Helping neighbors in need is all part of SEFCU's mission, said Castellana.
"We view our mission as to support people in our communities and work very hard to be a top notch financial institution to allow us to be able to do that," said Castellana. "We have a long history of giving and while much of it is planned, this issue that came out of nowhere warranted our jumping in to help."
(Continued on Next Page)
Prev Next
Vote on this Story by clicking on the Icon