Young and old came out for the Fifth Annual Bethlehem Holiday Parade held Friday, Dec. 2 on Delaware Avenue.
The parade, which begins each year at Bethlehem Town Hall and ends at the Four Corners, is the unofficial start of the holiday season in Bethlehem.
Melissa Lurie of Glenmont brought her two children, including 18-month old Jack, who was at his first holiday parade.
"I heard it was very cold last year," said Melissa Lurie. "This year, it was great."
Photo Gallery
Bethlehem Holiday Parade 2011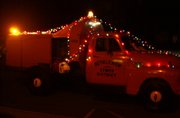 The Fifth Annual Bethlehem Holiday Parade was held Friday, Dec. 2 in Delmar. The parade started at Bethlehem Town Hall and continued down Delaware Avenue to the Four Corners.
Jim McCarroll operates McCarroll's Village Butcher at the Four Corners.
"It's mainly a spot for people to meet and enjoy themselves," said McCarroll.
It was the first year for John and Mary Hooper, the new owners of the Delmar Marketplace. The popular store at Delmar's busiest intersection was drawing in parade goers with hot cocoa and cookies.
"It's exciting," said John Hooper. "I've lived in town since 1960, so it's great to be part of the town businesses and get kind of a local feel for what's going on here in town.

For John and Sandy Onderdonk, it was their first time at the holiday parade. The couple moved from Saratoga to Delmar this year when they bought the Four Corners Frame Shop.
"We came down here and we loved it so much, we decided to move here," said John Onderdonk. "We bought a little house within walking distance."
The couple has been in the framing business for 25 years. They didn't expect to sell out the store during the parade. Instead, they were more focused on introductions.
"We figured they'd be too busy watching the parade," said John Onderdonk. "We wanted to let them know we're here and part of the community."
The parade included Department of Public Works trucks decorated in lights, fire trucks from departments across town and even a visit from the Grinch, who was locked up in a makeshift jail on the back of a pick-up truck.
The parade ended at the Four Corners with the ceremonial lighting of the Christmas tree. Children then had the opportunity to meet with Santa Claus, who sported a Delmar fire helmet.

Vote on this Story by clicking on the Icon