SCHENECTADY — Thanksgiving meals and Black Friday had come and gone, but a lifelong bond between several children and their adoptive parents was just beginning.
The Schenectady County Office of Children and Family Services and the county Family Court held an Adoption Day celebration and annual Adoption Tree Lighting on Monday, Nov. 28, outside of the county offices in Schenectady.
The tree is decorated in recognition of National Adoption Month (November) and families who have adopted children in the past year. The day also had 15 adoptions being finalized, making for a total of 35 adoptions for the county so far this year. An additional five adoptions are expected to be finalized before year's end.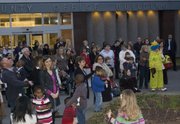 All the new families were celebrated at the event.
"All I can say is 'Wow,' we have a lot to be thankful for in Schenectady County this year," said Lori Pirrone, adoption unit supervisor for the county. "I want to thank every one of you who's come out today to support us. This is the biggest gathering we have had."
Pirrone gave some statistics about adoptions this year and said five sibling groups of two were kept together, one sibling group of three was kept together and a medically fragile child, Constance, was adopted on Nov. 28.
"Most importantly, I want to thank the families that come forward for our children. You are our heroes and our children are so grateful for what you are providing for them," said Pirrone.
Gary Gugliuzza of Johnstown is the adoptive father of Constance, and he said his wife, Laurel, had worked in the hospital where "Connie" stayed. He said his wife developed a special relationship with Constance. Since his wife is a nurse, he said she has had experience with fragile children.
"Connie would recognize Laurel's voice when she would come in and make a happy sound, so we arranged for fostering parenting," said Gugliuzza. "We were thinking about adoption and Connie got sick and actually had to be hospitalized again. In the meantime we wanted to be able to advocate for her and bring her home when she is able to."
(Continued on Next Page)
Prev Next
Vote on this Story by clicking on the Icon