continued — Gugliuzza said it is a give and take relationship with Connie and she has the need for attention and love, which his wife and him are happy to provide.
"When she is home she knows she is part of the family," he said. "She is just very loving and she just appreciates being with us. … There is no chance now that we have to give her up to someone else and that's good."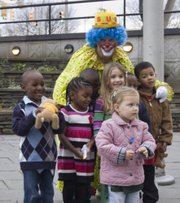 Family Court Judge Eli Taub said he is always happy when a permanency hearing isn't going to be held, because the child was adopted and has a place to call home.
"The most unsettling thing for a child is to be moved from place to place and not to know where they're at and where they are going to be and having the feeling then of being unwanted," said Taub. "What you have done for these children is give them the feeling and the knowledge that they're wanted that they're loved … you have given them life itself."
Schenectady County Legislator Gary Hughes, D-Schenectady, said he is an adoptive parent and shared a story with fellow adoptive parents.
"I'm sure this has happened to you at some point where you have someone say, 'Oh, your children are adopted, aren't you wonderful what a wonderful thing you have done,'" said Hughes. "I always say to that, 'Well, actually as an adoptive parent we are the people that are really getting the wonder out of this. We are the people that are enjoying the magic of these children."
Dennis Packard, commissioner of the county's Department of Social Services, said he looks forward to the day he can "turn the lights off," because no more children are up for adoption.
"Until that day comes, we need more people like you," said Packard. "This is a true day of Thanksgiving for all of you."
For information on how to adopt a child visit www.SchenectadyCounty.com or call the county's adoption services at 388-4736. The county is also holding several Foster Care and Adoption Informational Sessions in upcoming months, with the next session on Thursday, Dec. 15, at 5:30 p.m. at the Schenectady County Office of Children & Family Services at 106 Erie Blvd., Schenectady.
Vote on this Story by clicking on the Icon