CAPITAL DISTRICT — Seventy years ago, Dec. 7 was a Sunday that dawned sunny and calm in Hawaii. Joe Ryan, then 24, had just finished breakfast and was standing by the rail of the USS Argonne, gazing across Pearl Harbor to Battleship Row.
Suddenly, the serenity was shattered and his life changed forever.
"All of a sudden, an airplane hangar blew up and from behind came the roar of dive bombers … dropping torpedoes in a well practiced formation with devastating results," said Dennis Ryan, Joe's son. "In an instant, that paradise was transformed into a flaming hell."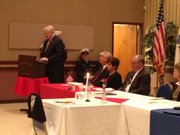 Ryan spoke on behalf of his father, who died four years ago on the anniversary of the attack on Pearl Harbor at age 90, at a Pearl Harbor Remembrance Ceremony on Wednesday, Dec. 7, at the Zaloga American Legion Post on Everett Road in Albany.
There were four Pearl Harbor survivors in attendance listening to Ryan recount his father's heroic experience, perhaps recalling their own memories of that fateful day.
Bill Langston of Cohoes was a fireman on the USS West Virginia, a battleship hit by six torpedoes and two bombs that settled at the bottom of the harbor. AJ (Adolph) Krenn of Delmar was blown over the side of the USS West Virginia after a torpedo hit and swam to Ford Island. Charles Ebel of Westmere was a Seaman 1st Class aboard the USS Curtis, a battleship that fired at enemy planes during the attack. Edward Bartholomew of Troy was a Gunners Mate 1st Class on the USS Pennsylvania.
More than 2,400 U.S. servicemen were killed in the surprise attacks.
"It's important for all of us to remember what happened on that day and also to make sure that others remember," said Town of Colonie Supervisor Paula Mahan, who has attended the event for four years. "Sometimes these really important events that have happened in history don't get enough recognition and it's a really nice way to say 'Thank You' to those men and women who served our country with grace and honor."
(Continued on Next Page)
Prev Next
Vote on this Story by clicking on the Icon