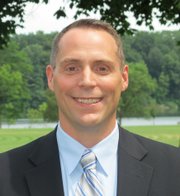 SCOTIA — A man who failed to win a seat on the Scotia Board of Trustees in November will join the board after all.
Democrat Rory Fluman was appointed to Scotia Board of Trustee during its organizational meeting on Monday, Dec. 5. Mayor Kris Kastberg, a Democrat, selected Fluman to fill the vacancy created by Cathy Gatta, who is resigning her trustee seat after being elected to the Schenectady County Legislature.
Fluman lost to Republican Thomas Neals in the 2011 general election, with unofficial election results placing Neals ahead with 682 votes, or 53 percent, and Fluman garnering 597 votes, or 47 percent.
Kastberg said he selected Fluman because he had an interest in doing the job.
"He is a guy that has the passion for the job," said Kastberg. "He came close in the election. While he was running, I obviously got to know him a little bit."
Fluman said he didn't go into the election planning to be appointed if he was unsuccessful.
"I knew that it was an outside possibility if Kathy Gatta won her seat … I certainly wasn't counting on it," he said.
Gatta, also a Democrat, was appointed to the county legislature following Susan Savage's resignation to accept the position of deputy commissioner for the state Office of Real Property Services.
Neals ran in the recent election to secure the seat Kastberg appointed him to, a move that saw Kastberg cross party lines. Neals lost his re-election bid in 2010 by 36 votes.
"You can't really afford partisan politics in the village," Kastberg said after appointing Neals in March 2011.
Neals was appointed after Trustee Andrew Kohout became the village's new public works superintendent after a vacancy was created when the village removed the former superintendent at the beginning of 2011 following a one-year probationary period.
(Continued on Next Page)
Prev Next
Vote on this Story by clicking on the Icon