SCHENECTADY — Have you ever wanted to donate something but didn't know where to go?
Schenectady-based Fountains Spatial, Inc. has a solution for the donating dilemma: its "Giving Map." For the 10 years, the geographic information system consulting company has offered a map system that allows people to easily find where to make charitable donations and volunteer.
At first, the map was a hard copy hung up on the business's storefront window on Jay Street in Schenectady. Utilizing modern technology, the Giving Map now runs off the Google Maps framework, allowing anyone to access it online.
Austin Fisher, vice president of Fountains Spatial, said there are various reasons the company makes the map every year, but the main hope is that it helps spur additional donations and encourages other businesses to be charitable.
"It might encourage you to do something that you weren't doing before," said Fisher. "I think it is a good example that we are not the only ones doing it. Hopefully it will encourage other business to offer their services for the good of the community."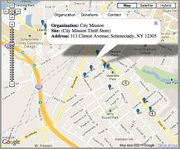 There are several businesses serving as donation points for various charities on the map, which Fisher said allows the public to realize companies are not solely working for profit.
He added it also helps people realize what technologies are present and could lead to different uses of the map-based technology.
"The technology that supports this it has been around a long time, but it is not all that well known," he said. "It helps to educate people on what is possible."
The software could also be used to, say, point out different locations where blood drives are being held or where crime is happening, he said.
Each year, the company refreshes the data, which takes one of 15 employees around a week or two to contact previous listings and add new ones. Organizations or individuals can also email the company through the website to add a location not currently listed.
(Continued on Next Page)
Prev Next
Vote on this Story by clicking on the Icon