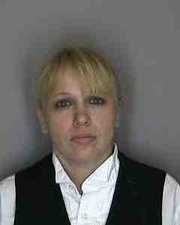 CAPITAL DISTRICT — Two people were arrested after Albany County Sheriff's investigators found 89 marijuana plants growing inside an East Berne residence, according to information from the sheriff's office.
Andrew W. Writer, 27, of 2724 Vermont View Drive in Colonie was charged with criminal possession of marijuana in the first degree, a Class C felony and unlawfully growing cannabis without a license, a Class A misdemeanor, according to police reports.
Kimberly A. Sim, 43, of 10 Emmet St. in Albany, was charged with criminal sale of marijuana in the fourth degree, a Class A misdemeanor, according to police reports.
On Tuesday, Dec. 6, investigators uncovered a marijuana growing operation at 289 North Road in East Berne where 89 marijuana plants were growing inside the residence, which was being rented by Writer, according to police reports. Police said Writer was not present at the time the search warrant was executed and went into hiding until turning himself in with his attorney on Thursday, Dec. 8. He was released on $15,000 bail, said police.
Sim is the mother of Writer's girlfriend and according to police, sold marijuana to a confidential informant.
Check back to spotlightnews.com for updates on this story.
Vote on this Story by clicking on the Icon