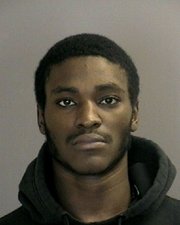 CAPITAL DISTRICT — A Schenectady man was arrested after robbing a woman in the parking lot of Northway Mall at 1440 Central Ave. on Monday, Dec. 12, according to the Colonie Police Department.
Around 9:43 a.m. Monday, Colonie Police received a call about a robbery in the lot of Northway Mall where a female employee of Super Shoes was punched in the head, knocked to the ground and a bag containing the store's bank deposit ($2,800) was taken, according to police reports. A male in the lot heard the employee scream and chased the suspect before losing him in the rear of the Staple's Store, according to police reports.
The responding officer saw the suspect fleeing the scene and chased him toward Colonie Center, ultimately taking him into custody after finding him hiding under a truck where he had attempted to hide the stolen money in the vehicle's undercarriage.
Say' Fallah Omeja Jenkins, 20, of 729 Brandywine Ave. in Schenectady was charged with robbery in the second degree, a felony, two counts of assault in the second degree, a felony, and grand larceny in the fourth degree, a felony.
While the suspect was being chased, three nearby schools (Colonie Central High School, Sand Creek Middle School and Roessleville Elementary School) were notified of the incident and went into a lockout for about 10 minutes, said police.
Check back to spotlightnews.com for updates on this story.
Vote on this Story by clicking on the Icon