continued — She said in the school's program she implements the "best practices" from other philosophies of learning too.
The school was started in the spring of 2002 and it has college students working with the children, which Ahola said provides an enriching experience for the students as well and exposing them to a different kind of learning.
There are six students in the program, which is unusually low, but Ahola believes the economy has started to take its toll on the number of parents registering their children.
"We have been on a waiting list every year except this year," she said. "Up until this year we have had 20 children all the time."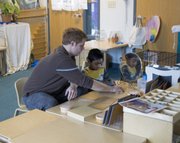 She said this is one of the worst economic climates she has seen and the programming is affected because it is purely a choice for parents. She said a lot of students' parents were stay at home mothers, which allowed them to simply keep their kids at home when the economy took a turn for the worse.
"We are looking at trying to get us into a full-day situation," she said. "If we could take children full-day we would probably get more."
She said there were two reasons she and college officials sought to start the preschool.
"It would be great for our students, but also the community because we are on a sliding rate scale, so students here pay a very, very low fee to send their children," she said. "Even our community rate is lower than any other Montessori around … we want the people from this community to be here."
Tuition for the preschool is $260 per child per month for community members, with lower rates for students, faculty and staff. Additional SCCC daycare is available at the on-site YWCA Children's Center.
For more information, contact Educational Coordinator Deb Ahola by calling 381-1402 or emailing aholada@sunysccc.edu, or contact Program Administrator Tammy Calhoun by calling 381-1395 or emailing calhoutb@sunysccc.edu.
Vote on this Story by clicking on the Icon