After years of negotiations, proposals and debates, development at the Vista Technology Campus off Route 85 in Slingerlands is officially underway.
A formal groundbreaking was held Thursday, Dec. 15, at the campus with elected officials, developers and representatives of the first three tenants of the development. Work began earlier this year on the 1.4 million square feet of land that developers hope will be a hub for high-tech industry.
Bethlehem Town Supervisor Sam Messina thanked a long list of contributors who helped get the project to where it is today.
"It's the project that we hope is going to be the kickoff of ensuring that we move forward to have more economic development in the Vista hamlet that is just south of us," said Messina, who mentioned places like the former Blue Cross Blue Shield building off of Route 85.
Photo Gallery
Vista Technology Campus groundbreaking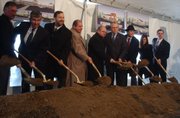 Elected officials, developers and representatives of the first three tenants at the Vista Technology Campus gathered for a groundbreaking ceremony at the site on Dec. 15. Development at the site, which is 1.4 million square feet, began earlier this year. Retail businesses will be the first to occupy the location, with high-tech businesses coming in the near future.
Questions have been raised about what businesses will occupy Vista. Representatives of ShopRite, SEFCU and Berkshire Bank – the three tenants signed on at Vista so far – were on hand for the celebration.
"Without those tenants, we wouldn't be able to have the financial capability to build the roads and start this park," said Joe Nicolla, the president of Columbia Development. "Because this park is 1.4 million square feet, we start at the beginning and go to the end. Ultimately, this is a high-tech technology park, the first in Albany County, the only in Albany County, I believe."
By signing on at Vista, ShopRite has continued its expansion into the Capital District. The supermarket chain opened its first area store in Niskayuna this year.
"We look forward to getting out and meeting and greeting all the great residents in this area," said Thomas Urtz, vice president of human resources and consumer affairs for ShopRite, who went on to say that the new store would open sometime in 2012.
(Continued on Next Page)
Prev Next
Vote on this Story by clicking on the Icon