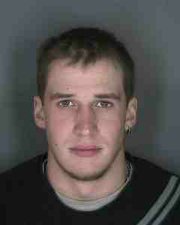 The Albany County Sheriff's Office arrested a Rensselaer man for allegedly raping a 19-year-old acquaintance in a parking area at Albany International Airport, according to information from the sheriff's department.
According to police, Ryan J. Bentley, 24, "forcibly raped" a 19-year-old female friend at the observation parking area of the airport on Tuesday, Dec. 13 and into the early morning hours of Dec. 14.
Police said Bentley and the victim met earlier in the evening at a store in the Schodack Plaza, went for a ride and ended up in the observation parking area where the victim said Bentley attempted to give her an unknown white pill that she refused to take. According to police, Bentley began to kiss her and the victim told him not to do that and that she did not like him in that way, at which time Bentley continued to force himself upon her by choking her and then forcibly raped her. Police said the victim attempted to fight off the attack but was being choked out.
Bentley then gave the victim a ride back to her car in Schodack and while doing so the victim was able to text one of her friends to report the rape, said police. Several of the victim's friends were waiting for the victim to return and upon arrival, Bentley noticed the victim's friends waiting and fled the area, said police, at which time the victim's friends gave pursuit. Bentley was in fear of the victim's friends and drove to the Schodack Police Department with the victim still in the vehicle, said police. and once there the victim told police about the alleged rape.
The victim sustained injuries to her neck, back and buttocks during the assault and was treated at Albany Medical Center and later released.
Bentley was arrested and charged with rape in the first degree, a Class B felony; aggravated sexual abuse in the second degree, a Class C felony; sex abuse in the first degree, a Class D felony; strangulation in the second degree, a Class D felony; and assault in the third degree, a Class A misdemeanor, according to police.
Vote on this Story by clicking on the Icon