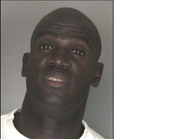 CAPITAL DISTRICT — A traffic stop in Menands led to a felony drug arrest on Thursday, Dec. 15, according to State Police reports.
Bruce T. Tulloch, 38, of the Bronx was arrested and charged with criminal possession of marijuana in the first degree, according to police reports.
State Police conducted a vehicle and traffic stop of Tulloch's 2002 BMW on I-787 around 10:27 p.m. in the Village of Menands because Tulloch was driving erratically while talking on his cell phone, said police. Tulloch was then found in possession of a large suitcase that contained about 100 pounds of marijuana, according to police reports.
Tulloch was arraigned in Menands Village Court and remanded to Albany County Jail in lieu of $50,000 bail.
Vote on this Story by clicking on the Icon