ALPLAUS — Fighting for the Alplaus Post Office to remain open is not a new battle for the hamlet's residents.
The United States Postal Service has slated this small office for closure, even though it is profitable. The community is rallying around the office, and not for the first time.
Opening the heavy, wooden front door of the Alplaus Post Office reveals a uniquely old fashioned feeling. The modernizations of a USPS facility are absent, evoking the hamlet's history and small-town atmosphere.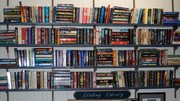 On the back wall there is a Lending Library, with books neatly stacked, waiting to be borrowed. Along the left wall are historical photographs, newspaper clippings and other community snapshots. To an outsider, the post office certainly offers more than stamps.
Cliff Hayes, 74 and a lifelong Alplaus resident, will admit he isn't a historian, but his curiosity about his hometown's history has made him something of an expert on the post office.
"I am not a real, true historian … I don't have anything else to do, I'm retired," said Hayes. "Since I have retired from work, I am kind of interested in how the village developed."
A storied history
To verify the history of the office, he sent a request off to the National Archives for a reproduction of the microfilm roll containing information on postmasters from Ontario County through Schoharie County.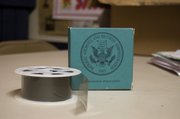 "I had no idea what would be on the microfilm, but I was looking for some old information on the post office because I knew it had started back in the late 1800s," said Hayes. "The real old history we really don't have too much … we have evidence from the archives that it existed."
He said the office was originally located next to the railroad tracks for the mail delivery coming out of Schenectady County. National Archive records indicate Joseph Hanigan was postmaster from Oct. 4, 1888, until the post office closed in late April 1908 due "to lake effect," with no other explanation given, before being reopened in 1922.
(Continued on Next Page)
Prev Next
Vote on this Story by clicking on the Icon