CAPITAL DISTRICT — "I … do solemnly swear that I will support and defend the Constitution of the United States and the State of New York against all enemies …"
In front of camouflage-clad soldiers and family, five new enlistees repeated the above oath in its entirety on Tuesday, Dec. 13. They were sworn in as National Guardsmen on the National Guard's 375th birthday at a traditional cake-cutting ceremony at the Division of Military and Naval Affairs Headquarters in Latham.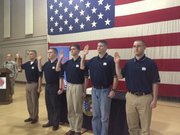 "I don't remember the day [I was sworn in] at all; it was not memorable. But today, I hope for these gentlemen and their families you'll remember the 13th of December," said Adjutant Gen. of New York Patrick Murphy, who administered the oath. "It's a great day to be joining the National Guard."
The National Guard, a group of civilian soldiers, celebrates each birthday with a cake-cutting ceremony. For the 375th year of service, though, members decided to mark the occasion a little differently.
"We normally find the oldest and youngest guard soldier and airman and bring them together to cut the cake," said Eric Durr, a spokesman for the National Guard. "This is the first time we did the enlistment at an event. 375 is a little more impressive than 372 or 373. It's one of those numbers that people notice."
In 2011, the National Guard turned over 2,036 soldiers nationwide, with Haley Young, Michael Patterson, Jr., Shelbi Vanderbogart, Eric Petersen and Donald Pestuglicci being five locals to join the ranks.
"We thought it was a great idea to have the adjutant general do the enlistment for these soldiers," said Durr.
Murphy also reenlisted Hillary Crispell of the 105th air wing.
"You see a mother here, not dressed as she would be with combat boots [because] her and her husband, also in the 105th air wing, are expecting in April," said Murphy. "We congratulate her on that but also on deciding to make the decision, with family, to come back in to the Guard again and reenlist."
(Continued on Next Page)
Prev Next
Vote on this Story by clicking on the Icon