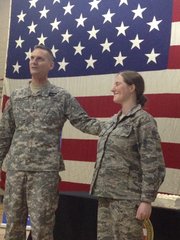 continued — Five National Guard members with Dec. 13 birthdays—David Smith, Joseph Dumas and Justin Phillips of the Army Guard and Airmen Brenda Baxter and Ian Tucker—cut the birthday cake emblazoned with 375th birthday logo.
The National Guard has played a storied role in U.S. history since its inception on Dec. 13, 1636 when the General Court of the Massachusetts Bay Colony passed a law establishing formal militia companies in the colony. The militia has fought in every war involving America, from King Philip's War against Native Americans in the colonies in 1675 to the war in Afghanistan.
Members also offer support on the home front during events like the Sept. 11 attacks or natural disasters like this year's Tropical Storm Irene.
Currently, more than 1,000 members of the New York Army and Air National Guard are serving in Iraq, Afghanistan and other locations around the world. More than 200 are on state active duty performing a security mission in New York City.
Vote on this Story by clicking on the Icon