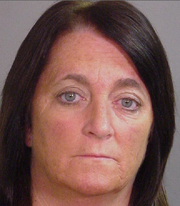 Clifton Park — A Clifton Park woman was arrested for allegedly stealing from a Booster Club on Friday, Dec. 23, according to State Police reports.
Kelly DeRosa, 44, of Clifton Park was charged with two counts of grand larceny in the third degree, falsifying business records in the first degree and three counts of criminal possession of a forged instrument in the second degree, all felonies, as well as petit larceny, according to police reports.
State Police received a complaint of a larceny from the Ultimate Cheer Booster Club in the Town of Colonie and while investigating the report it was discovered that DeRosa stole $9,040 from the club and $32,440 from the Pepsico Foundation, according to police reports. DeRosa was also found to have stolen a check from the Booster Club which she forged and she forged contract applications to Pepsico in order to fraudulently receive donations, according to police reports.
Vote on this Story by clicking on the Icon