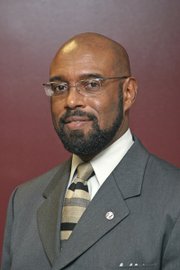 SCHENECTADY — Schenectady County Community College doesn't need to begin the hunt for a new president, for now.
President Quintin Bullock won't be leaving the area to become president of Stark State College in Ohio, after being named as one of three finalists. SCCC Board of Trustees Chairwoman Denise Murphy McGraw said Bullock called her the evening of Tuesday, Dec. 22, to tell her that he pulled his name from the running. The following day Stark State announced the college selected Para Jones, current president of Spartanburg Community College in South Carolina.
Irene Lewis-Motts, spokeswoman for Stark State, said she had "no knowledge" of Bullock withdrawing himself as a candidate, and first heard of the withdrawal through the media.
SCCC spokeswoman Heather Meaney said Bullock is declining to comment on anything related to Stark State's presidential search.
Motts said Bullock's withdrawal had "no bearing whatsoever" on the final selection outcome.
"I was not told that by my Board of Trustees," Motts said. "I don't know for a fact if he did or didn't (withdraw) … the board entered discussions with Dr. Jones prior to the formal announcement."
Jones previously spent 22 years working at Stark State and will take on her new role in February. The presidential search started with 36 potential candidates being selected, then it was lowered to eight candidates for the interview process and finally down to the remaining three.
McGraw said SCCC is "on a real roll" and is glad Bullock will be remaining at the college to oversee and help lead future developments.
"We have a number of other initiatives coming down the pipe," McGraw said. "He has been somebody that has done everything … he has been a real leader, he has taken us to new heights."
College officials recently celebrated the groundbreaking of the new student housing facility, which across the street from the campus and his slated to be 112,000 square feet with 264 beds. United Group holds a 40-year lease on the property with an option to continue releasing it for another 40 years. Construction is planned to be completed by August 2012 and ready for fall semester students to move in.
(Continued on Next Page)
Prev Next
Vote on this Story by clicking on the Icon