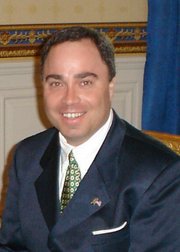 Spirited debates between Republican Legislator Robert Farley and sitting Democrats have come to an end.
Farley announced in May he wouldn't return as minority leader for the Grand Old Party in the Schenectady County Legislature. Upon joining the legislature in 1994, he was 31 years old and he ran believing he could contribute something to the community, but his family also played a role.
"I don't think it was a coincidence I ran after my first daughter was born, because I took a look at her and said, 'I want her to stay here,'" Farley said. "I think we have improved the economy, I think we have made Schenectady better. There may be opportunities now that didn't exist back then."
He added people view the county very differently than in years past. Previously, he said there was "a lot of despair" and the public didn't believe they could change anything. Now, he believes there is a lot more hope across the community.
"I ran on a platform of trying to bring economic development to Schenectady," said Farley. "Schenectady was a much different place … it was almost going through withdrawal syndrome."
General Electric had drastically reduced its workforce and the surrounding community was negatively affected. The city's lifeblood had been drained.
"GE was Schenectady," Farley said. "They were very much of a community orientated organization … everybody got involved with GE."
A community uprooted
Growing up in Niskayuna, he said it wasn't uncommon for several fellow classmates to have parents or family members working at GE. Many people yearned for a return to the city's electric age, according to Farley.
"In 1993, there was still, I want to say, a kind of a perception of what can we do to make GE come back and love us again?" he said. "It is almost like a kid whose parents had split up and the father has left the house … what can we do to make him come back again and love us?"
(Continued on Next Page)
Prev Next
Vote on this Story by clicking on the Icon